Chapel Hill Town Car and Limousine Service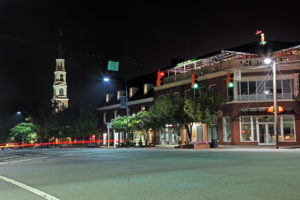 Chapel Hill is northwest of Raleigh, just west of Durham, and is the western corner of what comprises the Research Triangle. Most people associate Chapel Hill with the University of North Carolina (UNC), which is well known for it's superior education and history of basketball championships. Chapel Hill got it's name from how the initial area was developed along a hill where a small Anglican "chapel of ease" once sat. It has since been replaced by The Carolina Inn, yet Chapel Hill draws thousands of students each year to attend college at UNC and even more who come to see the UNC Tar Heels play at the Dean Smith Center. Another advantage of Chapel Hill is the close proximity to the airport for traveling in and out of North Carolina.
Since parking throughout Chapel Hill is at a premium, Carolina Car Service has the perfect solution of luxury chauffeured transportation that removes the need for finding designated drivers or dealing with traffic and parking, and for those who travel in and out of RDU can stop worrying about long term parking or dealing with undependable discount transportation resources that never have enough space for baggage and are usually cramped. Carolina Car Service has limos, town cars, mini-vans, luxury SUVs, and even buses available for every situation, whether it be for an airport transport, getting to meetings, going to a game, a night out on the town, or a special event. Professionally chauffeured vehicles can be reserved on short notice, and can accommodate anywhere for 1 person up to 55 people in a coach bus.
RDU Airport Transportation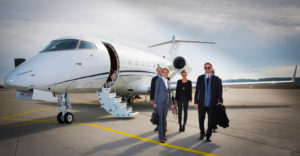 Chapel Hill residents, students, and corporate businesses who require prompt and dependable transportation to and from RDU can rely on how Carolina Car Service has flight tracking systems in place that will guarantee luxury vehicles with plenty of room for baggage will be waiting upon arrival, or can provide on-time transportation to the airport 24 hours a day, 365 days a year.
Business Transportation
Chapel Hill companies have found that Carolina Car Service has just the right luxury vehicles for making sure they are on time to meetings when attending conferences or conventions at locations like the Rizzo Center or the Aqueduct Conference Center. Limos and Lincoln Town Cars are available to make the ride as comfortable as possible while delivering important space that's needed for carrying anywhere from one person up to eight executives.
Weddings
Brides and grooms love Chapel Hill for it's high end wedding venues, such as The Carolina Inn, Governors Club, The Siena Hotel, and The Barn at Valhalla, but when it comes to the perfect mode of transportation during that momentous occasion, what could be better than to be chauffeured in a stretch limo or a rare Mercedes R63? For helping the bridesmaids, groomsmen, and family members get to the wedding or reception in style and comfort, there are also luxury SUVs, Mercedes Sprinter Limousines, and luxury sedans available so everyone can travel together.
Proms and Homecomings
High school students that live in Chapel Hill and go to Carolina Friends, Chapel Hill High, East Chapel Hill, Cedar Ridge, or Orange High School all vie to reserve both stretch limousines and the most luxurious chauffeured SUVs and Mercedes sedans available when it comes time for prom or their homecoming. The stretch limos can hold up to 8 friends, or if going to your prom with someone special requires a vehicle that will have all heads turning, then there is no substitute for the ultra rare Mercedes R63. You'll be the talk of your school when you arrive in style!
Concerts and Sporting Events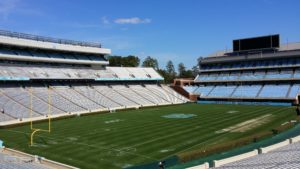 The Kenan Memorial Stadium in Chapel Hill is not only where UNC hosts their football games, but it's also a favorite music venue for local and national musicians, such as Bruce Springstein and U2. Going to The Dean Smith Center for an NCAA basketball game or to Kenan for the football games and concerts can really be a lot of fun, but parking is always the worst unless you are chauffeured there by the professionals at Carolina Car Service!